INSTITUTIONAL / JANITORIAL
Lee Soap's municipality, fleet, institution, and janitorial products are designed for heavy duty cleaning needs. Our line includes truck wash, parts and tank cleaners, multi-purpose cleaners and floor cleaners.
These products are available in:
Powders
Liquid Concentrates

Max Pak® Ultra Liquid Concentrates
Nano Pak™ Liquid Concentrates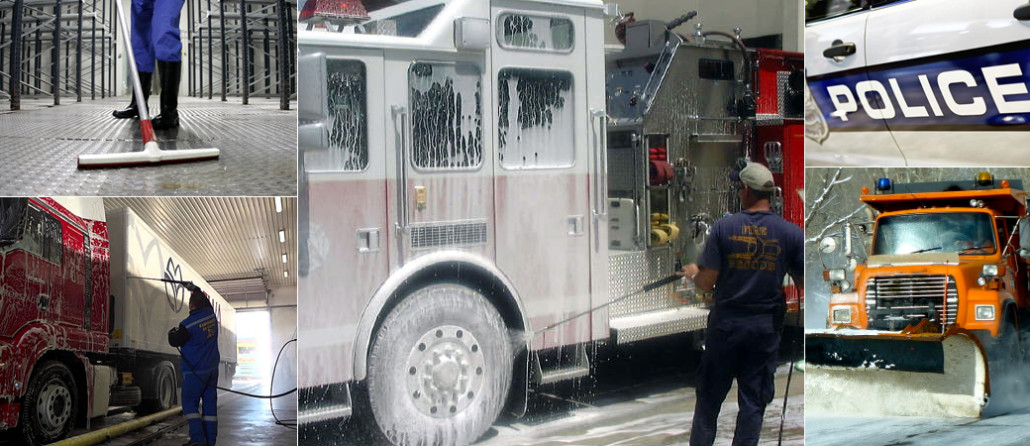 Lee Soap will partner with you in the development of your own private label look and products. Using your brand, or we can develop/design one for you. Lee Soap will design a marketing program that includes:
Market and Company Specific Performance Enhancing Products
Branding (Labels, SDS Sheets, Charts)
Marketing Programs
Employee Training
Sales Training
Assistance with Regulatory Compliance
Your  custom designed quality products combined with your label, service and reputation will build customer loyalty and brand recognition within your marketplace.
Imagine promoting  a product line that highlights your company and your brand instead of the manufacturer!
This is just a sampling of a complete line of products we offer. Please contact us for specifics on custom formulations, marketing packages and comprehensive product line for you.
TRUCK  / INDUSTRIAL WASH
Polymer Cleaning and Protection Truck Wash
Powdered Car and Truck Wash Detergent
Parts and Tank Cleaner Liquid
Parts and Tank Cleaner Powder

Shine Glass Cleaner RTU

Shine Glass Cleaner Concentrate

Alkaline Prep Presoak

Acidic Prep Presoak

Wheel & Tire / Engine Degreaser / Cleaner

Clear Coat Protectant
LAUNDRY
Control P-1000 Powdered Laundry Detergent
Pro Brite Liquid Laundry Detergent
FLOOR / WAREHOUSE
Mean Green
Powdered Floor Cleaner
Machine Clean
Liquid Floor Cleaner
Knock Out
Floor Cleaner
Power Kleen P-1000 Floor Cleaner
Powdered Floor Cleaner
Mop and Move No Rinse Floor Cleaner
No-Rinse Floor Cleaner
MULTI-PURPOSE

Slam
Multi-purpose Cleaner
Citra Shot
Multi-Surface Cleaner / Degreaser
Dyna-Clean
Multi-Purpose Degreaser
Perfecto All Purpose Cleaner
All Purpose Cleaner (Lavender Scent)
MISC
Master Kleen
Powdered Hot Tank Cleaner
Break Down Enzyme Drain Treatment
Enzyme Drain Treatment
Shine Concentrated Glass Cleaner
Glass Cleaner Conc 10:1
Shine RTU Glass Cleaner
RTU Glass Cleaner
*All products available for private labeling
RESTROOM

Renew Room ReFreshener
Concentrated Air Room Freshener
Refresh Tub and Tile Bath Cleaner
Tub and Tile Bath Cleaner
Foamy
Foaming Hand "Soap"
Balance Pearl Hand Soap
Hand Soap with Lanoline
Command anti-bacterial hand cleaner
Anti-bacterial hand cleaner
*All products available for private labeling