WHY LEE SOAP?
123+ Years Strong!
Lee Soap is an industry leader providing a full line of products and solutions for the
Automotive Carwashing Industry.
More than just great products, we're your solution to better results
and more efficient operations.

Quality Products.    Expertise.    Customer Service.    Training & Follow-up.
"I wanted cleaner, shinier cars. Lee Soap gave me more than product, they gave me solutions. Everybody wins."
"In a very competitive business, you will not find a better product for your dollar. Quality products and superior service."
"Lee Soap offers excellent value and their products deliver superior cleaning power compared to other suppliers."
OUR DETERGENTS
Backed by 123+ years of professional detergent manufacturing! We provide a full line of detergents, protectants and drying aids that can be customized to fit your carwash.  Utilizing non-corrosive, micro emulsion chemical technology we have developed innovative ways for you to become more competitive and profitable. Make the choice to improve your customer satisfaction and bottom line.
. . . have it your way!
Shine & Shield Products
A full line of standard and high concentrate products designed to be easily converted into your wash.  Complete with a rack and dilution system that makes for easy operation and allows you to save on shipping and equipment room space.  Whether you have a Tunnel, In-Bay Auto, or Self-Serve carwash, this is the most premium detergent you can buy.  Brighter, Shinier, and Drier vehicles lead to happier customers and greater profits!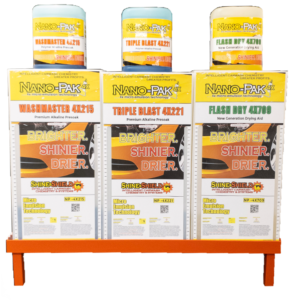 1
Powder Coated Racking System
2
Milliliter Chemical Use Viewing Window
3
Convenient 1-Gallon Containers Meant to be Dumped into Storage Tank
Solutions Plus
A full line of standard and 3x concentrate products designed to be easily installed into your carwash.  Available in 30gal, and 5gal sizes.  Different from the Shine & Shield products these do not come in a 4x concentrated system.  Powerful performers for every carwash environment.
What can Lee Soap offer me that many other chemical companies don't?
Free consulting on vehicle wash operations by knowledgeable salespeople
Complete in-house design, sign, banner, decal and print shop for all your signage and marketing needs
Technical and practical expertise at solving cleaning problems
In-house stainless steel fabrication shop for fabricating detergent dispensing equipment
In-house lab for analyzing and developing products
Carwash equipment beta testing lab to ensure high quality detergent application
Custom formulations
Lee Soap only manufactures state of the art, non-corrosive chemicals.
Eco-Friendly
Safer for Operators
Easier on Equipment
Lower Shipping Costs
And most importantly . . . provides shinier, brighter, drier and more protected vehicles.